V is for victory and vulnerability
How does an athlete like Maelle Ricker go from coming in 4rth in Turin in 2006,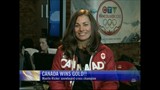 to grabbing the gold in women's snowboard cross in 2010?
She didn't achieve her ultimate career high by pretending she was perfect.
Any athlete, or leader, who wants to push themselves to the next level has to be willing to be honest about their weaknesses.
3 mind blowing facts about weakness in leaders:
Your weaknesses, mistakes, shortcomings all show up at work. You can't hide them. You might think you can, but people see them. They smell them. They know.Think about the commentators in the games who point out the athletes' weaknesses, "The judges will be watching his ankles as he lands. People are calling this the weak spot in his routine and the judges will either reward him for landing it or punish him for over reaching.") Likewise, there are people at work who know your weak spots, and they are also on the look out.

I say if you are going to give them a show, show them that you are working on the weakness.

Leaders who try to hide their weaknesses suffer. Why? First, you lose respect for appearing disingenuous and hypocritical. Second, whilst ever you are pretending that you don't have a problem, you are missing out on opportunities to get help and get ahead.
Being vulnerable, letting some light shine on your weaknesses, makes you stronger. It is one of the strongest things you can do as a leader.People admire leaders who admit their mistakes. People trust leaders who create a working culture where people can ask for help. Owning up to your weaknesses, and showing your people that you are working on them makes you real. And it gives you and your team a real chance at improving.
Athletes practice with their coaches in a no-risk environment. Kurt Browning didn't practice the quad for the first time in the Olympics (he did land it for the first time in the Olympics).
To overcome a weakness, think about creating a safe, no-risk, practice environment for yourself. You have to be able to cop to your weakness. You have to want to address it. You have to ask for help from a coach, or a mentor, or another leader who you can be vulnerable with. Eventually, you have to take some risks. Then, you've got a shot.
FYI: Ironically, it isn't the average athletes and managers who seek out the best coaches, and push themselves hardest. It's top tier athletes and top tier managers who are hungry to achieve their next level of success. In my experience, they are the ones who are willing to be vulnerable, and do the work, because they know that they have the potential to pull ahead of the pack.
I feel a little like the coach of an Olympic team. My job is to get in there, create a safe zone for people to be vulnerable, and quickly work high performers through whatever weakness is holding them back. You can ask anyone who's worked with me, my playbook is pretty challenging, but it's mostly painless.
This article was originally published in Chris Obst's monthly e-newsletter. Sign up on the side.
Category: All, Good Management Habits, Manage your People, Team building, The Leader's Toolkit
Tags: Courage, feedback, Management 101, work culture