I have to say, ever since the Olympic torch relay ran past my house, I've been stoked about the games. (I hope my American and European readers will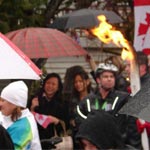 indulge me if a little Canadian pride sneaks into this email).
Did you see Alexandre Bilodeau win Canada's first home-gold in the men's moguls on Sunday? Can I tell you why I found it so exciting?
As Stephen Brunt wrote in his Globe and Mail article, "That great moment didn't happen by accident."
Bilodeau won because he trained hard. He won because he took risks no one else took. He saw opportunities no one else saw. One commentator said, "In his gold medal run, Bilodeau skied hard, fast, and on edge, walking the thin line between greatness and disaster."
Great leaders also have to ride that edge. We also have to train. We also have to focus. We also have to get comfortable being uncomfortable walking the line between greatness and disaster. Continue reading…